After an extremely successful tour in 2016, it was announced that Kenny Chesney was taking the majority of 2017 off of touring except for a handful of festival dates. Fans across the country, including here in New England, were devastated by the news as Chesney's near-annual stop at Gillette Stadium has become a tradition for country music fans in New England and beyond. Chesney always seems to give just a little bit more to the shows at Gillette Stadium as the fans in New England are absolutely unbelievable and make him feel so at home here. Kenny feeds off that energy the fans give and he gives it right back to them in his live performances. So when it was later announced that Kenny would be returning to Gillette Stadium in 2017 for his only stadium shows of the year, fans rejoiced! Not only that, but fans from across the country booked flights to New England to see the 8x Entertainer of the Year at Gillette Stadium!
Kenny always brings a strong cast of supporting artists with him and that was no different this year. Originally announced as Old Dominion, for the 3rd consecutive year, and Thomas Rhett, Chesney later added Big Machine Label Group's trio called Midland to the lineup. And from top-to-bottom, this lineup did not disappoint.
An hour after stadium gates opened, Midland took the stage. The opening slot is always a difficult one. The stadium is nowhere near capacity as some fans are still trying to get through security while others may be trying to squeeze in some more tailgating out in the parking lots. But Midland took it in stride and played an incredible set for the fans who were inside the stadium. Their set included songs like 'Check Cashin' Country,' 'Make A Little,' and their debut single 'Drinkin' Problem,' which reached the top of the Mediabase chart last week, making it their first Number One single- news that they received while in Foxborough!
After the trio retreated backstage, it was Old Dominion's turn on the stage that they have become so familiar with over the past few years. Kenny likes to work with bands and artists that he believes in. So for him to ask Old Dominion to join him at Gillette Stadium for the third consecutive year speaks volumes. The last two years, they have had that opening slot but this year they were able to move up and got a longer set than in the past- to the delight of the fans. After kicking it off with 'Snapback' and 'Crazy Beautiful Sexy,' lead singer Matthew Ramsey acknowledged that the previous night was their fifth time playing at the stadium by saying, "Does anyone know how it feels to do something awesome FIVE TIMES? I don't know, like winning a Super Bowl!?," which drew cheers from the massive crowd that came in for the band. They continued with 'Said Nobody' and 'Nowhere Fast,' before Ramsey again talked to the fans, saying, "We've learned a lot of things from Mr. Kenny Chesney. One of them, one of the most important things, is to not take this for granted. We've played a lot of years playing to nobody. This means the world to us that you showed up early to listen to us play our songs."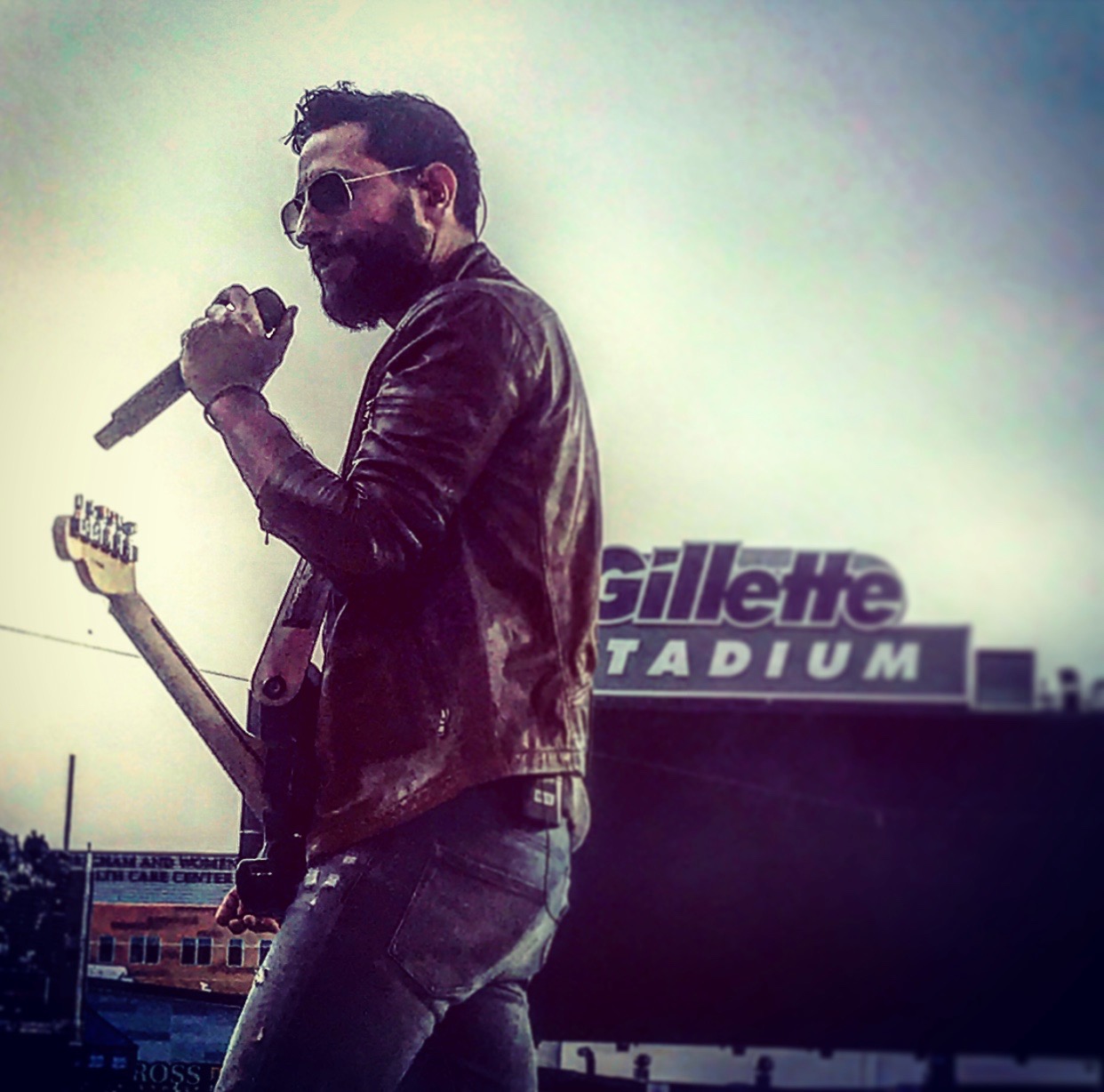 He continued, "Yesterday was a big day for us. We released our second album. It's a big deal, y'all. Boston has been so amazing to us. So we brought a whole bunch of signed CDs for you guys… We get it, we get the whole No Shoes Nation thing." The next few songs were a mix of songs from their debut album and their sophomore album. Songs like 'No Such Thing As A Broken Heart,' 'Be With Me,' 'Break Up With Him,' and 'Written In The Sand' before playing one of our favorites, 'Can't Get You,' and 'Wrong Turns.' "Before we play our last song, we just want to say we hate to leave. We just want to keep coming back because you are amazing and we owe you so much," Ramsey genuinely said. He continued, "Thank you so much for showing up early to hear us play. We hope you have an amazing time tonight- we know you will." Old Dominion wrapped up their night, their sixth set at Gillett Stadium, with their 2016 Number One single, 'Song For Another Time,' before waving goodbye to the New England faithful.
Kenny has been known to bring some amazing artists to play as his direct support over the years. Artists like Eric Church, Jason Aldean, Miranda Lambert, Tim McGraw and more! This year, Thomas Rhett got that honor. Before making the trip to New England, Rhett posted on his Instagram story, saying, "I can't sleep knowing that me and he band will be played to over 100 thousand people over the next two nights with freaking Kenny Chesney at Gillette Stadium." With fans seeing those previously aforementioned artists in past years, the bar was set high and Thomas Rhett lived up to the expectations with an amazing set full of hit songs and energy. He opened with 'Crash and Burn' before exclaiming, "Welcome to night two, Gillette Stadium!" He continued with 'Some of That' and 'Make Me Wanna' before a spontaneous singing of 'Happy Birthday' to a fan and bringing her on stage for a hug and of course a selfie! Next was a mix of his current single, 'Unforgettable,' and Bruno Mars' 'That's What I Like.' "I gotta thank Kenny Chesney for having me out. This is a bucket list moment," Rhett said to the crowd before playing 'Parking Lot Party,' a song he wrote and Lee Brice recorded.
Next was one of our favorite moments of the night. Thomas Rhett and Midland are both signed under the Big Machine Label Group, so naturally they have a friendship. Rhett told the crowd that after Midland left the stage earlier, he told them that they didn't get to play 'Drinkin' Problem' to enough people so he wanted to bring them out to sing it again. With a nearly full stadium watching, the trio made their way from sidestage to the front of the catwalk that extended into the sandbar for an acoustic performance of their hit single. After finishing, lead singer Mark Wystrach yelled out, "God bless Boston! Go Patriots!" which obviously drew a raucous reaction from the crowd. Next was a cover of FGL's 'Round Here' (another song he co-wrote) and Garth Brooks' 'Friends in Low Place' before playing his smash hit, 'Die A Happy Man,' which he asked the crowd to light up the stadium with their phones and help him with the chorus at the end.
With only a bit more left in his allocated time, Thomas chose 'It Goes Like This,' as well as his duet with Maren Morris ('Craving You') in addition to 'Star of the Show' and another cover; this time Bruno Mars' '24K Magic,' during which he jumped off the stage and made his way over to some fans in the lower bowl near the stage. For a short period of time, Rhett stayed backstage before returning to the stage to his own drum kit for an entertaining drum-battle with his drummer before transitioning into his final song of the night, 'T-Shirt.' On the Friday night show, Thomas showed off the custom pair of Patriots themed Air Force One sneakers that Mr. Kraft gifted him and it seemed like he channeled the Patriot Way and 'did his job' as he put on an amazing set that got the crowd excited for headlining act- exactly what his job was to do.
With no official tour in 2017, Kenny had some custom banners made for Gillette Stadium. Both sides of the stage, as well as the massive curtain that hung across the stage during the break, featured a bathing suit-clad young lady with a Red Sox cap. The three banners featured Gillette Stadium's name, and the dates of the shows. The side banners had 'She's From Boston' on each of them. So it's fair to say that Kenny invested a lot into these shows to make them just right. After a break for fans to get drinks and use the restroom, Kenny showed up on the side video screens which caused screams to come from around the stadium. It then flashed to some Super Bowl highlights- Kenny sitting next to the Kraft's in the owner's box and James White running it in for the game winning touchdown- what a way to start the show!
A Saturday night set of 27 songs was in store for the No Shoes Nation faithful and Kenny kicked it off with 'Beer in Mexico,' 'Reality, and 'Til It's Gone,' before reminding the crowd that it was his 17th show in Gillette Stadium, with the crowd roaring in response. During 'Summertime,' Kenny exclaimed, "It wouldn't be Summertime without this!" He'd continue with 'Pirate Flag,' acknowledging the fans who had their white and black No Shoes Nation flags waving around the stadium. Before playing 'No Shoes, No Shirt, No Problems,' Kenny said, "You guys built this. This is where it started. This is your song!" – a reference to Kenny declaring Gillette Stadium as the birthplace of No Shoes Nation back in 2012. He continued by saying, "I truly believe that our connection is that we have a lot in common. When I look out there into your faces, I see people who love music, love life, love sports, and leave each other. That is the definition of No Shoes Nation!"
The night continued with 'I Go Back,' 'Guitars and Tiki Bars,' and 'Save It For A Rainy Day,' during which he brought out Matthew Ramsey and Brad Tursi (two of the song writers) to help him, as he has one in years past. Matthew came out on stage in a Patriots jersey with Danny Amendola's name on the back, and it was later shared on social media that the gift was a personal gift from Danny as the organization posted a photo of Danny with the band and the jersey backstage! Next up was the current single, 'All The Pretty Girls,' as well as 'Living In Fast Forward,' 'Young,' 'Noise,' and 'American Kids.' At the end of 'American Kids,' the crowd was roaring, chanting Kenny's name to which Kenny was in awe as he stared into the crowd with a smile on his face. He was clearly moved by the love that the crowd was showing him as he led his devoted following in a singing of the chorus.
Before his shows at Gillette Stadium last year, Kenny released a single called 'Setting the World On Fire.' But unfortunately, he didn't perform it last year. But this year he didn't disappoint as he played the song with his bassist, Harmoni, taking on P!nk's role in the vocals. Taking a break from the music for a moment, Kenny wanted to acknowledge something that happened last year in this stadium. "Last year was incredible. The last night was one of the highlights of my life. All year, I've been thinking about this night this stage, these faces; about what me and my road family feel when we're up here… It's special. last year something special happened." He was referencing the woman he had seen in the crowd who had just finished chemotherapy and was brought on stage by Kenny where he rubbed her head and she rubbed his- a special moment on the 2016 Spread the Love Tour. Well Kenny noticed her again this year! She was in the crowd and he brought her up on stage where Kenny gave her a big hug. She took the microphone and told the crowd, "No Shoes Nation helped me with my battle. Thank you!" Going back to last year, the young lady that Kenny had given a football helmet to, she took it off and gave it to the woman who had just finished chemotherapy- another incredible moment from last year's show. That young lady was also here in 2017 and Kenny remembered her and brought her on stage where he gave her a hug and the two women embraced as well. For Kenny to remember these two faces among the tens of thousands of people is pretty amazing. What a moment at Gillette Stadium! Tears were flowing throughout the crowd during this time. Kenny finished by saying, "It's that love that defines this audience, that defines this arena!" With that, Kenny performed 'Boston' – a song he reserves for his shows in New England.
It was time to bring the energy back up in the stadium and what better way to do that than with a special guest!? Uncle Kracker joined Kenny on stage for a few songs such as 'When The Sun Goes Down,' Uncle Kracker's 'Follow Me,' a raucous cover of Kid Rock's 'Cowboy,' and 'Drift Away' – the crowd singing along to every song. Still full of energy, Kenny wrapped up his night and his summer with 'How Forever Feels,' 'Big Star,' 'Out Last Night,' and 'Boys of Fall,' before an encore of 'She Thinks My Tractor's Sexy.'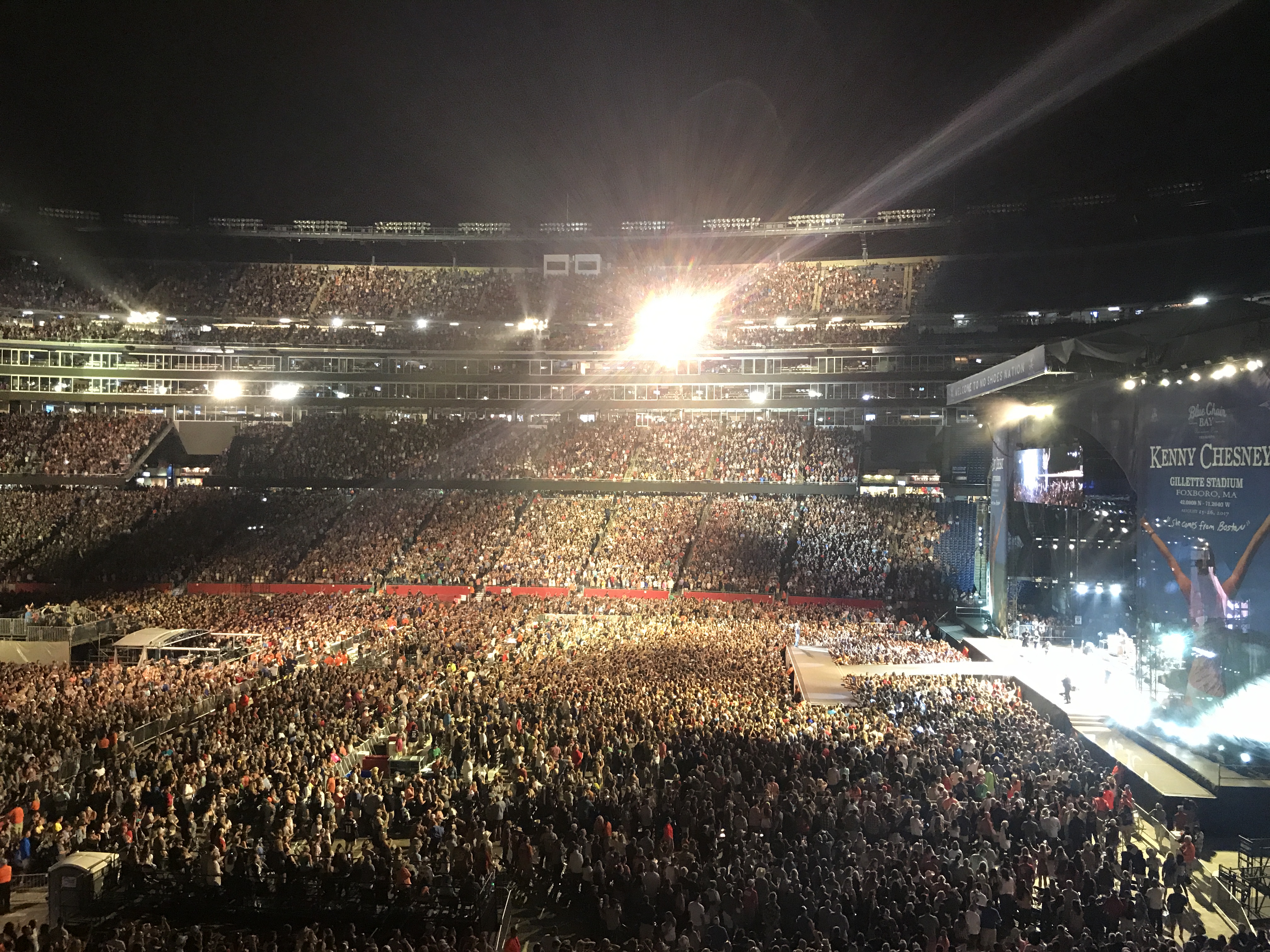 With no official tour, New England was lucky to have been chosen as the only two stadium shows of the summer. Kenny called his run of shows the 'Summer of Seventeen.' Yes, it probably pertains to the year but it can also be a nod to his Gillette Stadium and New England family as it was his 17th show in Foxborough- once again, ending his summer here. Maybe this summer was all about these two shows, maybe it was the the 'Summer of Seventeen(th show at Gillette Stadium)' because it sure felt like that. It was one of the best shows we've ever seen put on by Kenny. He left it all out on that stage and the 121,000+ fans that came to see him at Gillette Stadium gave it right back to him.