The past two years have been explosive for Kane Brown, a relatively unknown musician just a short while ago, trying to make a name for himself, to linking up with Jason Aldean for this summer They Don't Know tour,  along the way releasing a pair of EP's, 'Closer,' independently, and 'Chapter 1,' released by RCA Nashville, and even a full length, self-titled album, released in December of 2016 by RCA Nashville. Some artists may take the sudden career shift with some blows, but Brown has seemingly taken them in stride, performing with some of the biggest names in country music, and bringing that high level of intensity and professionalism to small venues across the country headlining his own tours.
The Wolf Den has seen its share of high profile acts over the years, so veterans of the venue know to get in line early, but that didn't seem to help, as the casino was packed with fans young and old, hoping for their chance to get as close as they could to the stage, on the floor, in a seat, at the bar, or even peeking through the slot machines. The venue was packed full, the lights went dim, and the crowd knew they were in for a helluva night. "Are you ready to have a good time?" blasted through the PA as Kane and his band took the stage, to a near casino record crowd roar.
Kane rattled off hits 'Pull It Off,' 'My Everything,' and 'Rockstars,' thanking his mentors Florida Georgia Line and Jason Aldean along the way for having him on their record setting tours. "Hopefully you can take something away from this song, that is what's really important to me, weather you're black, brown, blue, purple, green, it doesn't matter," as he began 'Learning,' a heartfelt song about racism, a broken childhood, and what made him the man he is today. Dedicating the next songs to the dancers in the room and the couples in the room, Brown teased, "You know I couldn't come here without bringing some covers with me, where's my Alan Jackson fans at?" After a rendition of 'Chatahoochee' that had the entire floor dancing, Brown began a story of his greatest idol. "A lot of people have asked me what my favorite thing that I've done as a singer has been, and it has to be singing at the Randy Travis tribute show. If he isn't the definition of icon than I don't know what is." A short technical difficulty put a pause on the show, but Kane took that as a signal to sign as many autographs as he possibly could to those on the floor, and after a few seconds thrilled the audience with his rendition of 'Three Wooden Crosses.'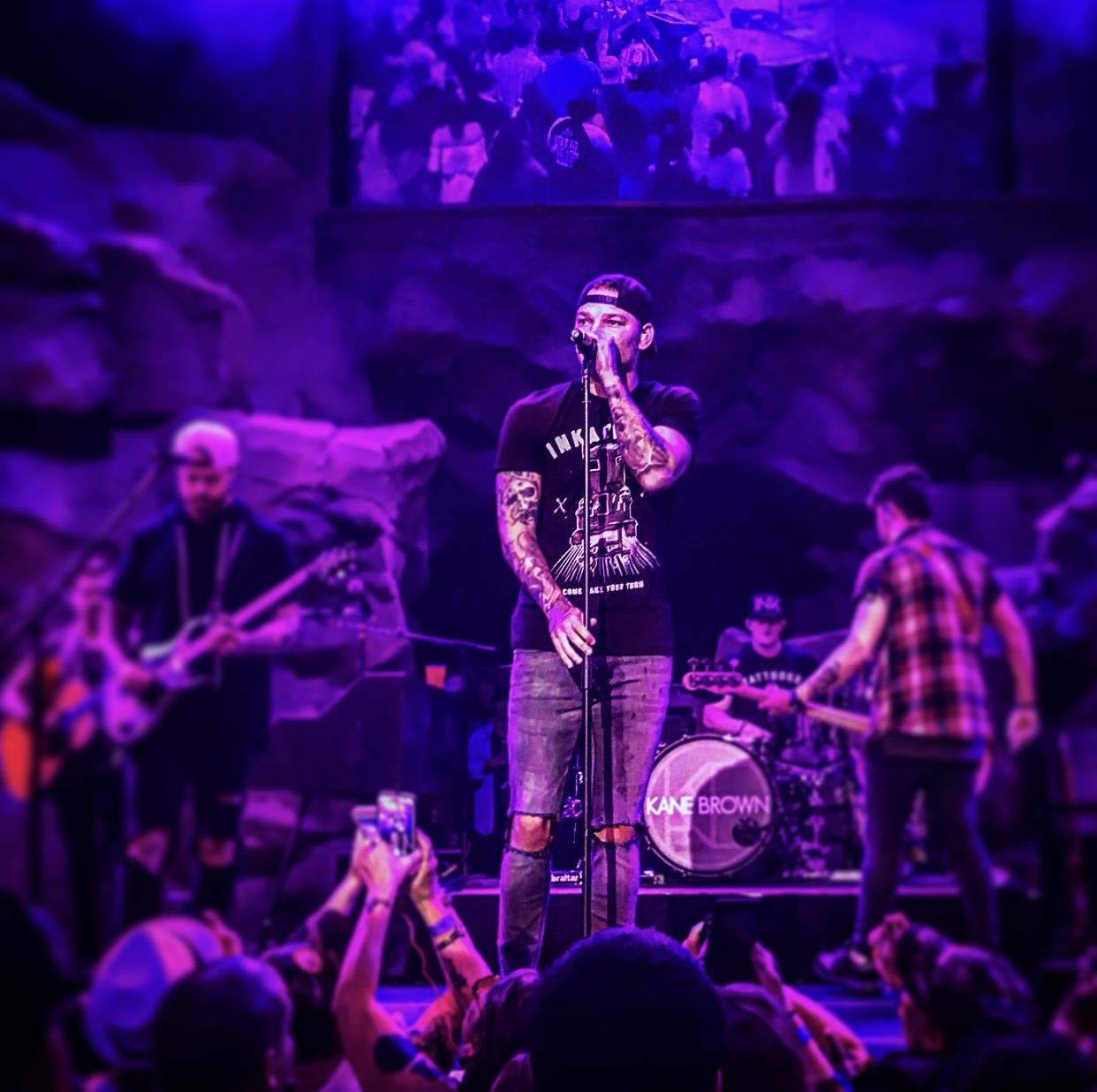 Covers of Sam Hunt's mega hit, 'Body Like a Back Road,' and Billy Currington's 'Let Me Down Easy' followed, but Brown quickly jumped back into his own music as he worked through the latter half of the show with 'Ain't No Stopping Us Now,' 'Never Found You,' 'Hometown Proud,' and a song dedicated to the nights he spent in town sitting around in Walmart parking lots and driving fast, 'Wide Open.' One thing that Kane Brown took from FGL was their way of turning the end of a show into a mashup of songs, getting an arena to sing along to every word, and Brown did just that, fusing bits and pieces of 'Stacy's Mom' by Fountain of Wayne, 'Boyfriend' by Justin Beiber, and 'Closer' by The Chainsmokers. With a final song, 'Thunder In The Rain,' Brown and his band left the stage, but only momentarily, as they returned to a thunderous applause to deliver an encore performance of 'Closer,' 'What Ifs' and 'Used to Love You Sober.' The band gave their final bows and disappeared as quickly as they had entered, and the buzz walking out was at an all time high, Kane Brown delivered one of the most exciting nights that the Wolf Den has seen in 2017 being the common theme. Kane will be on tour with Jason Aldean this summer, and unfortunately they won't be swinging through New England, but make sure to stay up to date with all upcoming free concerts at the Mohegan Sun Wolf Den here.