Florida Georgia Line, The Backstreet Boys, Nelly, and Chris Lane do not add up to your typical concert lineup. In fact, when The Smooth Tour's stadium roster was announced, reactions from fans ranged from elation to confusion to various levels of negativity. It was without a doubt a bold move as FGL could have easily put forth a country-driven lineup and satisfied fans. But they didn't want to just satisfy, they wanted it to be an unforgettable night for everyone. The duo chose Fenway Park in Boston, MA for their first-ever stadium show and they exceeded expectations as the event was monumental. Friday, July 7th, the historic ballpark was sold out as Florida Georgia Line gave 40,000 fans memories to last a lifetime.
Things got started around 6:00 with up-and-coming country star, Chris Lane, who set the tone for the evening with an energetic performance. The North Carolina native played five songs from his debut album including his latest single, 'For Her,' and his cover of Mario's 2004 hit, 'Let Me Love You.' Lane's high-energy performance kept fans on their feet but he couldn't manage to stay on his own – the singer had his first fall on stage during 'Who's it Gonna Be.' In good spirit, Chris was able to laugh it off later posting a video of the incident on his Instagram. He ended his set on a high note with fans singing along to his infectious Number One hit, 'Fix.'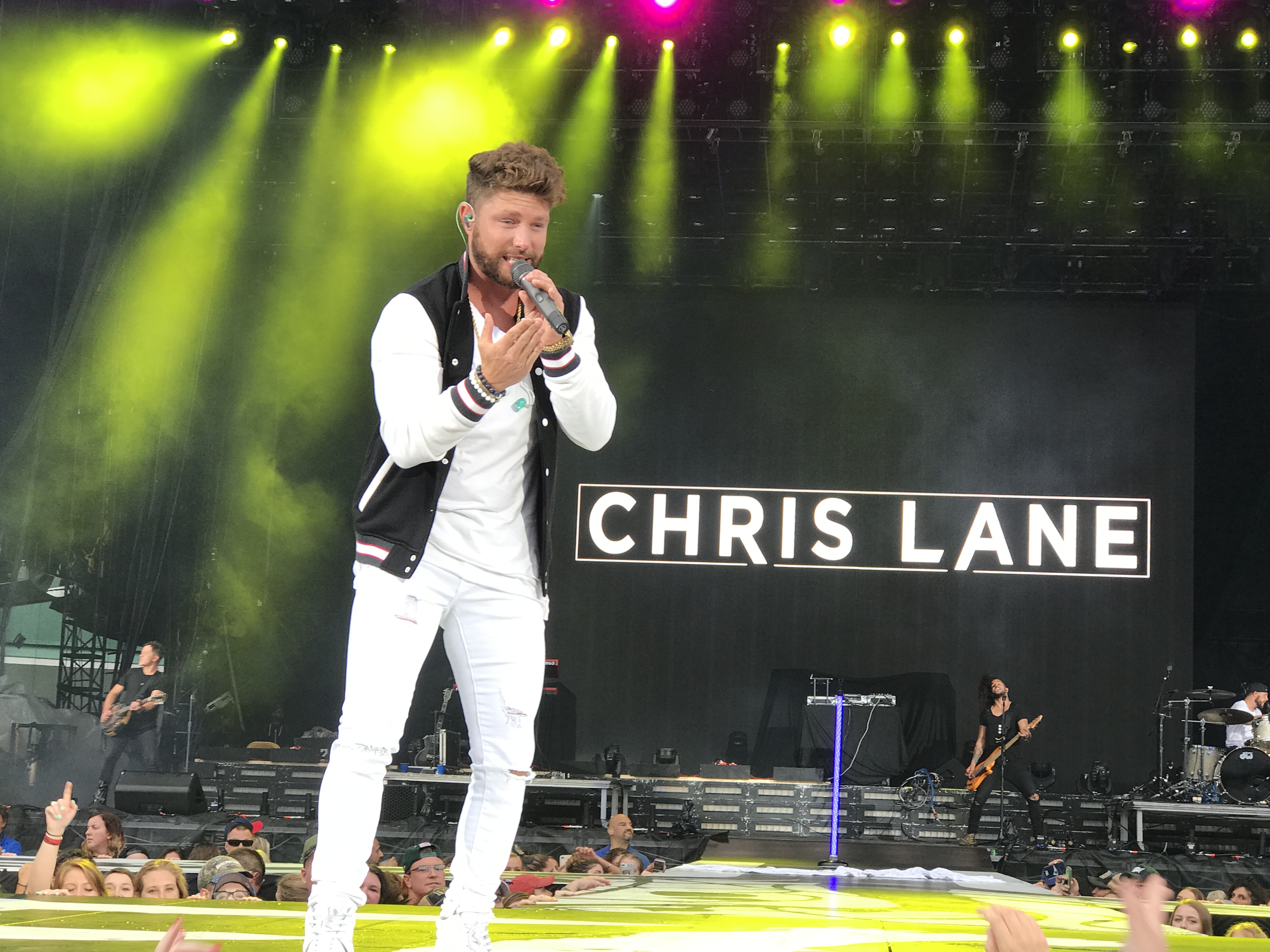 Switching gears, next to hit the stage was Nelly, who rocked some cutoff jorts and a pair of shades, sans his signature bandage. He opened with 'Party People' and continued with some upbeat hits, 'Shake Ya Tailfeather' and 'Batter Up.' "Thank you for letting me be in your house. One of the first cities to show me so much love was Boston," he said after performing his 2002 hit, 'Air Force Ones.' The city was about to show Nelly even more love as the crowd went wild for his throwbacks, 'Country Grammar (Hot Shit)' and 'Ride Wit Me.' The rapper has always been open about his appreciation for all genres of music, and this tour with FGL isn't his first dip into country. He performed his R&B cover of Thomas Rhett's chart-topper, 'Die a Happy Man' and his 2004 collaboration with Tim McGraw, 'Over and Over.' Of the former, Nelly told the crowd he was proud to be able to do this because Rhett wrote the song for someone special. The remainder of his set included popular hits like 'Grillz' and 'Dilemma.' The St. Louis native completed his inaugural performance at Fenway Park with 'Just a Dream.'
Oh my god, they're back again. Arguably just as popular as the evening's headliners was The Backstreet Boys. Masses of girls in their mid-twenties to mid-thirties went absolutely crazy at the first indication of the BSB set. Smoke shot up from the stage and sparks flew as the boy band kicked off their set with 'Larger Than Life.' A group of backup dancers appeared after the first chorus and made reappearances throughout the Backstreet Boys' set. "What's up, Boston? Yeah baby, this is the best city in the world, man! It's so good to be back at Fenway," AJ shouted after a few songs. "This is beautiful. This is freaking amazing. We want to thank everyone for coming here tonight," Nick chimed in. The band announced that they've been working on some new music, but of course the performance wouldn't be complete without a trip down memory lane. AJ presented the crowd with "24 years of BSB," which included 'Drowning,' 'Incomplete,' 'Quit Playing Games (With My Heart),' 'As Long As You Love Me,' 'The Call,' and finally, all the way back to 1995 with 'We've Got it Goin On.' Of course, their trip down memory lane had to include the classic boy band choreography. Over two decades later, the Boys have still got it. When their string of hits ended, they announced that they wanted to take a photo with "some of the best fans in the world." The group posed at the end of the catwalk in front of a backdrop of tens of thousands of excited fans. "We're going to leave you with this, then our friends Florida Georgia Line are gonna come out and rock this!" BSB wrapped things up with 'I Want It That Way,'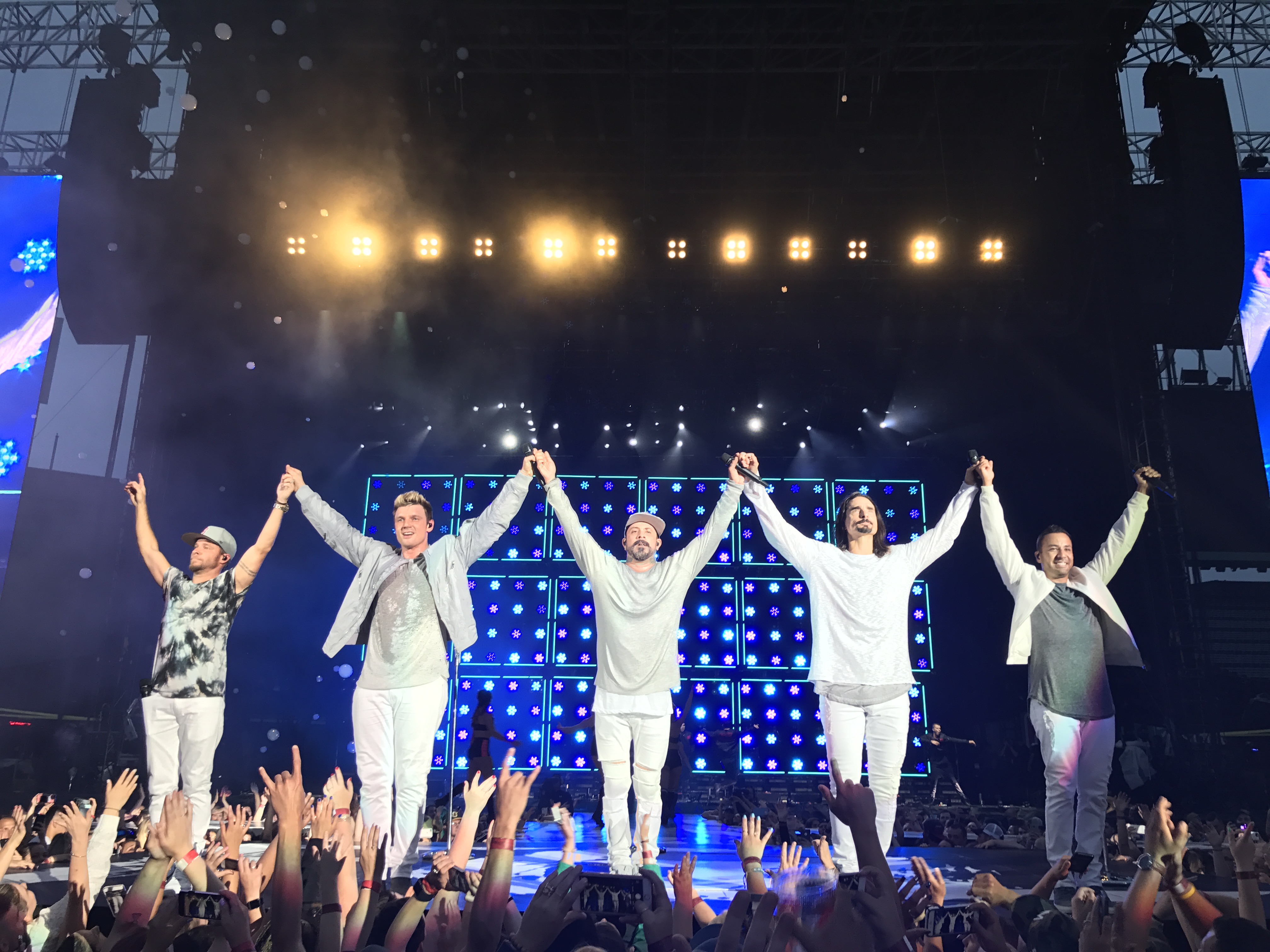 All of the openers undoubtedly set the bar high. So when it was time for Florida Georgia Line to kick off their set, they did so with a bang – literally. Fireworks erupted as intro music to 'Anything Goes' played. The duo was accompanied on stage by backup dancers who continued to support the guys throughout various songs during their set. The pair jumped into a run of high-energy hits including, 'It'z Just What We Do,' 'Round Here,' 'Smile,' and 'Confession,' before formally addressing the sold-out crowd. "Boston how we doing, you guys feeling good tonight?" Tyler asked. "I think it's time we make a toast. First of all we wanna thank The Backstreet Boys, our Uncle Nelly, and Mr. Christopher Lane. And Boston, you guys sold this place out tonight, it's unbelievable! Cheers to that! This is a dream come true tonight. 40,000 strong in Boston tonight, cheers to that!" The toast was the perfect transition into the tour's namesake, 'Smooth,' which they assured is exactly how they like their (Old Camp) whiskey.
For the next run of songs the stage transformed as trees emerged from behind the duo. "We came a long way tonight to dig out roots in this historic stadium," Tyler told the crowd, introducing the obvious, 'Dig Your Roots.' Likewise, BK followed up with, "We're standing on some pretty amazing dirt,"  indicative of the 2014 hit. "I believe it was four years ago we were at the House of Blues, we got a tour of the stadium and we dreamed of playing here. There's not another stadium in the country we'd like to call our very first stadium show of our life. Thank you for selling this place out!" They asked the crowd to join them in singing the chorus of 'Dirt' one last time. Fans' voices echoed throughout the stadium as the duo watched in awe, "Boston, you're beautiful!" They followed up with 'Sippin' On Fire,' which naturally included more pyrotechnics, and a dedication to their wives, 'H.O.L.Y.' They brought a piano to the end of the catwalk that Hubbard played for the ballad while home photos and videos of the two couples played on screen.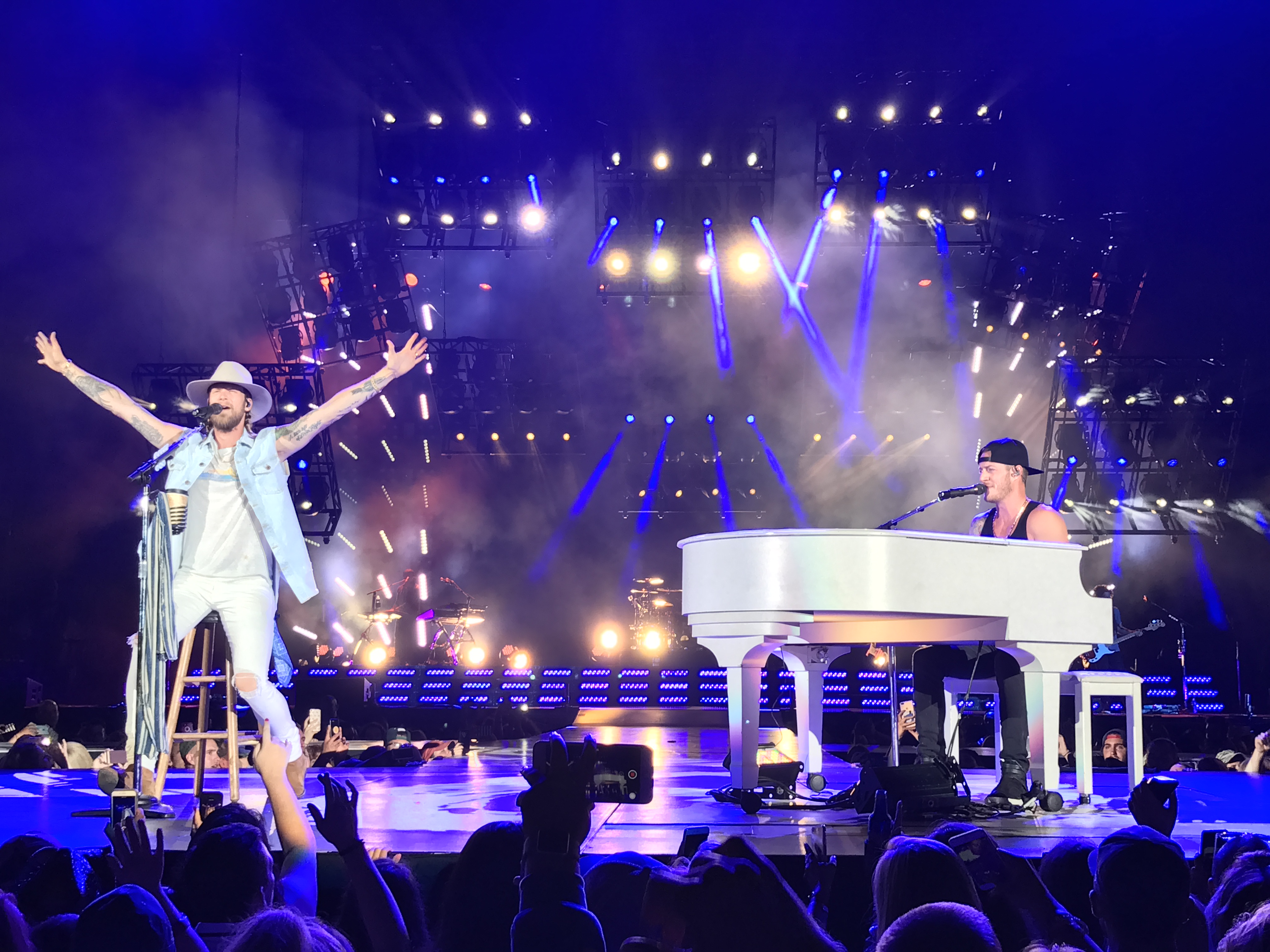 Firing the crowd back up, the pair re-introduced The Backstreet Boys to sing their collaborative hit, 'God, Your Mama, and Me.' At the end of the song, the guys were presented a plaque to celebrate their Number One country radio hit and captured the moment with the crowd. The next special guest to return to the stage was Chris Lane, who joined the duo for their hit, 'Sun Daze.' Keeping fans hyped up, they performed a collection of "underground party jams," 'Turnt' and 'Swerve.' They completed their set with 'This is How We Roll' and 'Get Your Shine On.'
After few minutes of resounding screaming, clapping, and general noise making, the stage was once again illuminated. But to everyone's surprise, it wasn't Florida Georgia Line who appeared, but Nelly. Seems as though he forgot one of his greatest hits earlier, 'Hot in Herre.' The crowd erupted with excitement as he performed the chart-topper and brought everyone back to their middle school days. Hearing a stadium full of country fans shout, "Girl, I think my butt gettin' big!" is something we could never have foreseen, but it was pretty amazing, nonetheless. Nelly was also joined on stage by FGL for the latter part of the song. As if that didn't raise heart rates enough, Backstreet was back, alright. The band came out to perform their mega-hit, 'Everybody,' while Tyler and BK put their best effort into the chorus' choreography. Finally, all of the artists ended the night together with the most energetic and epic rendition of FGL's 'Cruise.' (The Nelly remix, of course.) Honestly, we've never felt such an intense energy radiating through a venue before. For their first-ever stadium show, Florida Georgia Line pulled of a momentous event – one that fans will remember forever. "Y'all blew our minds last night!!" the duo posted on their Instagram the following day. Right back atcha, guys.
For more photos from this show, click here.