The Eli Young Band is a household name in country music. They've produced impressive chart toppers that have received Platinum and Multi-Platinum attention, as well #1 ranked Billboard Top Country Album spots with their work. EYB have been selling out shows as headliners from coast to coast, as well pairing up with other big name country artists like Kenny Chesney, Rascal Flatts, Tim McGraw and more. With their forthcoming album 'Fingerprints,' the group really focuses in on who they are and what the Eli Young Band has contributed to the genre of country music. Chris Thompson shed some insight on the new album, singles, and more.
Their new album, 'Fingerprints,' is set to hit stands on June 16th. It has been three years since the band has released an album, with their last one being '10,000 Towns' in 2014. It is safe to say that EYB fans are chomping at the bit to get their hands, or fingerprints, on this new record! NECM talked to Chris on everything that went behind their sixth studio album. Creating and choosing the songs to make the cut on 'Fingerprints' was a relatively easy process; "It was the fans really," Chris said. "When we had went into the studio to record 'Fingerprints' we were tired of doing the same old thing so we really took some time to listen to our fans and see what was working best with them, and just kind of went from there." With being a band of seventeen years now, EYB knows what they do well and what they don't. With this record, they wanted to keep "a real conscious eye on 'is this what fans really want to hear? Does this represent what fans like about us most and is it really honest to the band that we are?'" Chris told us that 'Fingerprints' is a more wrangled-in and more focused record, rather than a cohesive one. "'Fingerprints' tells a story of a snapshot in time… all the songs were written around the same time so musically and lyrically, it's just a really honest record. It's the Eli Young Band playing Eli Young Band songs."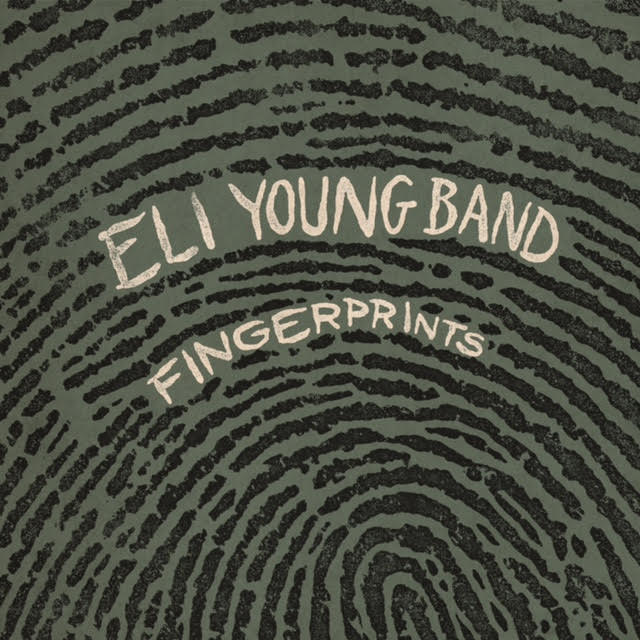 As far as the album name goes, there is a significant meaning behind it – two actually. "Well, the title track means one thing and the title of the record means another" Chris said. "The song goes down the road about a relationship, while the title, for us, represents how over the many years we've been a band, people have left their fingerprints on us and our career because they've helped shape who we are and what we do. And on the same token we feel like we've left our fingerprints on country music and whoever else."
EYB co-produced the album with longtime producers Ross Copperman and Jeremy Stover on their newly joined label, Valory Music Company. Valory Music is an imprint of the record company Big Machine, which Eli Young Band has worked with for years. With a lot of the same people working on Valory Music as Big Machine, there was a natural flow to how things went, Chris said. "They really just said, 'go in and make your record.' They were pretty hands off in the process which was nice to have that creative freedom. They are really proud of this record so there were levels of trust for each other with it." Copperman and Stover helped enhance this album, as well- "working with them is such a pleasure and we wanted to do this whole record with them. Ross is super talented and a ball of energy. And Jeremy is so great at wrangling everything in and guiding us, it really was a great balance." Ross Copperman has worked with many artists alongside EYB such as Kenny Chesney, Dierks Bentley, Brett Eldredge, Jake Owen and Keith Urban to name a few, while Jeremy Stover has worked with and produced works of Justin Moore and Lonestar. With the aid of these two talented producers, 'Fingerprints' is sure to have an entire tracklist full of songs that are rich and full-bodied.
Familiar singles off of the new album's tracklist include 'Saltwater Gospel' and the newly played satellite radio Sirius XM The Highway's single 'Skin And Bones.' 'Saltwater Gospel' was chosen as the lead single off the album because of its naturality- "it really held its own and became the choice for us. Lyrically it's a different kind of song for us. In a short number of seconds it's able to transport people to a different place and its spiritual aspect was important to us." Satellite radio has always been a close partner for EYB, with a good chunk of their fan base listening to SiriusXM. "It helps when they play our songs, especially when they're unreleased. You can see who is hearing your stuff and who isn't," Chris pointed out. Their newest single on satellite radio to date, 'Skin And Bones' is most personal to Mike Eli because he wrote it for his wife. The songs brings to light many components that show snippets of his life with her. Chris' favorite song is the record as a whole; "I hate to sound so cheesy," he laughed, "but the record as a whole is my favorite just because it's always nice to have a finished product that really truly feels like it represents my band." 
To continue on in the path of creating such successful music, EYB plans to keep doing what they do best – being the Eli Young Band, playing and making music that is true to them and representative of who they are as a group. "We need to be honest with ourselves and the music and the recording process. And then we get lucky!" he laughed. "We all have opinions on what will work and what won't work. We don't want to just cut songs just to have them because we think they will be big. We want to cut songs that we believe in and that we love." And don't worry EYB fans, the group is definitely planning on going on tour in support of 'Fingerprints.' "We're always on the road!" Chris explained, "so we'll definitely be touring all over the country for the rest of this year and for next year. We thrive on the road, so absolutely there will be a tour!"
Be sure to be on the lookout for the Eli Young Band's album release of 'Fingerprints' on June 16th. You can purchase your copy on iTunes here.
Main photo credit: Joseph Llanes